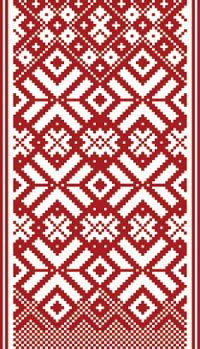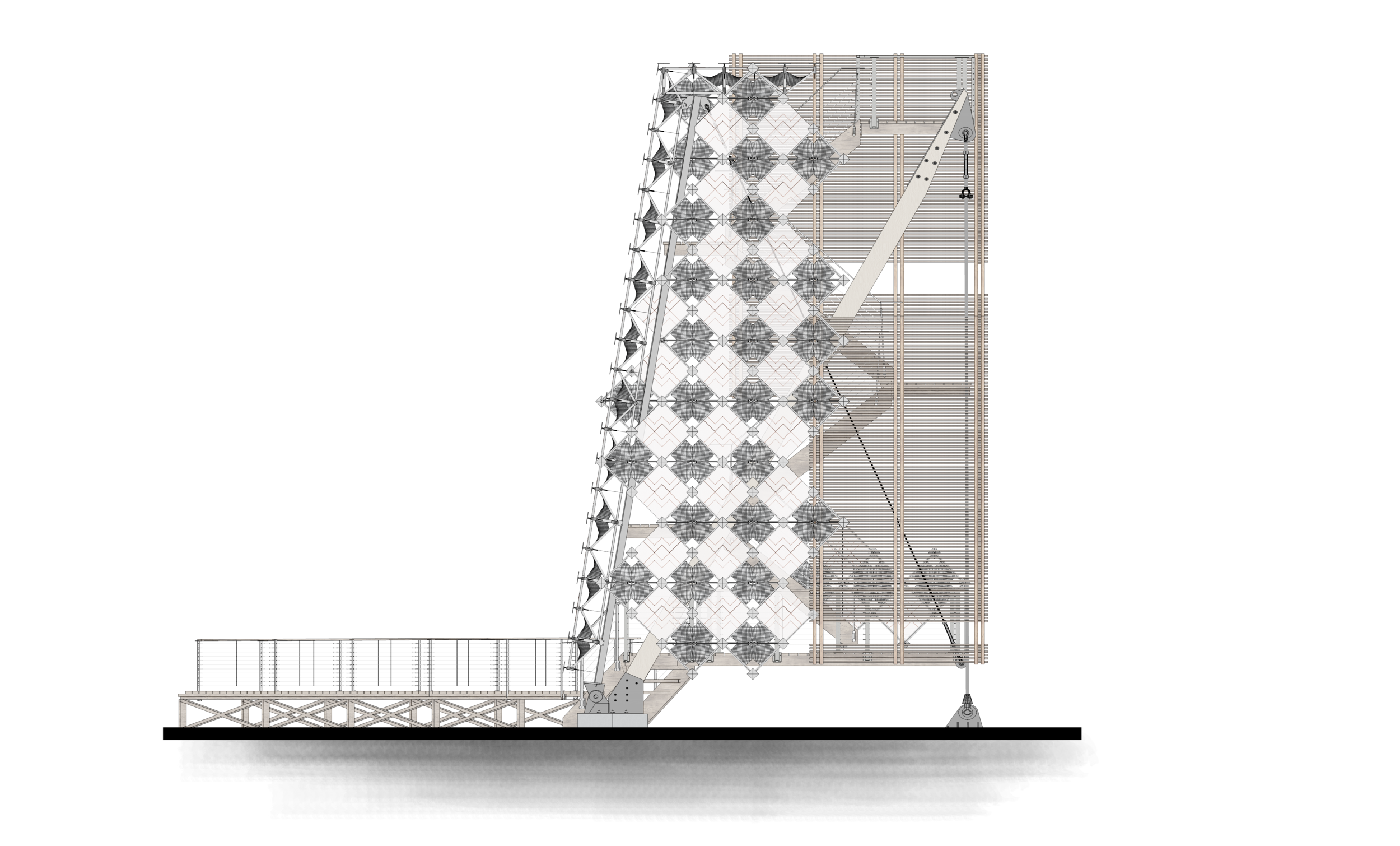 Kokle is a proposal for a new bird observation tower in the Pape Nature Park, Latvia. It translates traditions of Latvian craftsmanship to produce a solution that is respectful and sensitive to its environment, familiar to place yet somewhat foreign, and ultimately iconic and beneficial for the development of the Pape Nature Park and the local identity as a whole.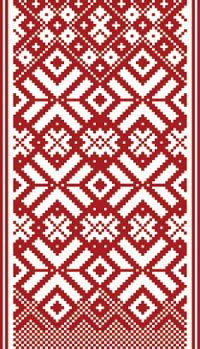 CROSS-STITCH
The space-frame façade for our observation tower contributes to the lightness of the structure and the accessibility of its construction. It is composed of standard space-frame modules, but offers a special homage to Latvian folk culture through its artisan panel system. Alternating panels of fabric and mesh provide a protective screen for the viewer, shielding them from the elements and hiding them from the anxious eyes of nearby birds. The pattern of these panels is a translation of the traditional cross-stitching language in Latvian needlepoint. They would be produced by local artisans and assembled on site.
KOKLE
The beloved traditional Latvian instrument, the kokle, is mythologically associated with the singing, "soul-inhabited" tree. It has a soulful and expressive sound that is the result of its elegant design. The strings of this folk instrument are allowed to be free from a dampening bridge, opening it up for a range of tones and a variety of moods. This ancient innovation of Latvian craftsmanship provided the inspiration for the structure of our bird observation tower. Our structure touches the ground lightly and does not revel in excess. It is expressed by a strong diagonal post, from which cables secure stability and allow for freedom within the frame. Our tower is the tree from which we observe the ultimate symbol of freedom: the migratory bird.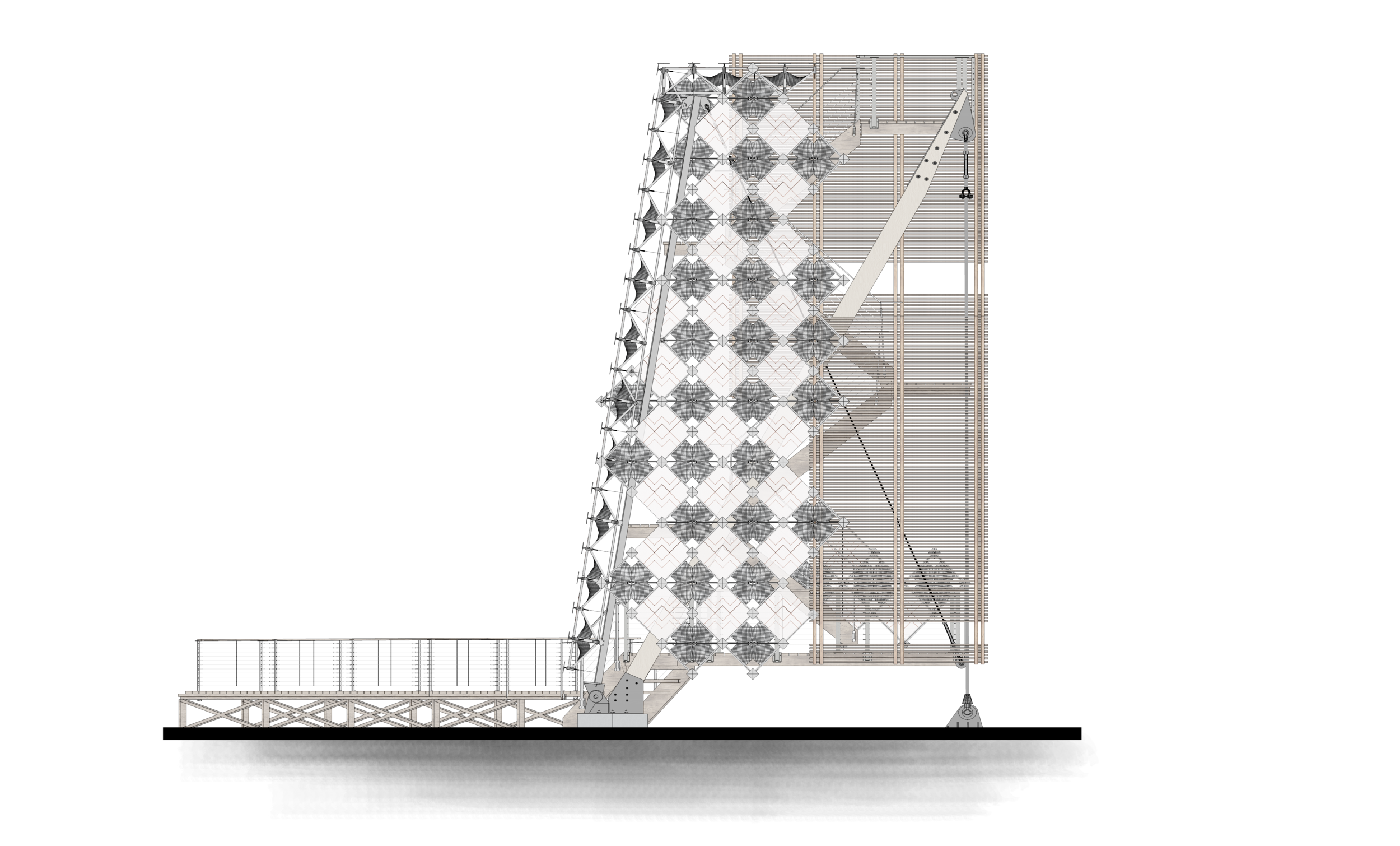 THE EXPERIENCE OF OBSERVATION
The duality of densely nested boxes and lightweight space frame panels allows for a complexity of observation opportunities, ranging from intimate vantage points of full coverage to open elevated vistas. Selective subtraction of these elements produces a sequences of eye-opening experiences.
LIGHT AND AIRY
The second platform provides fragmented glimpses of surroundings through a raster-like composition of openings that references the language of the cross stitch.
STITCHING/WEAVING
The third platform exists where the intersection of wooden panels and space frame screens negotiate to provide a unique visual experience. An elevated opening allows for photo opportunities.
REVEAL
The top-most platform provides stunning 360 views.