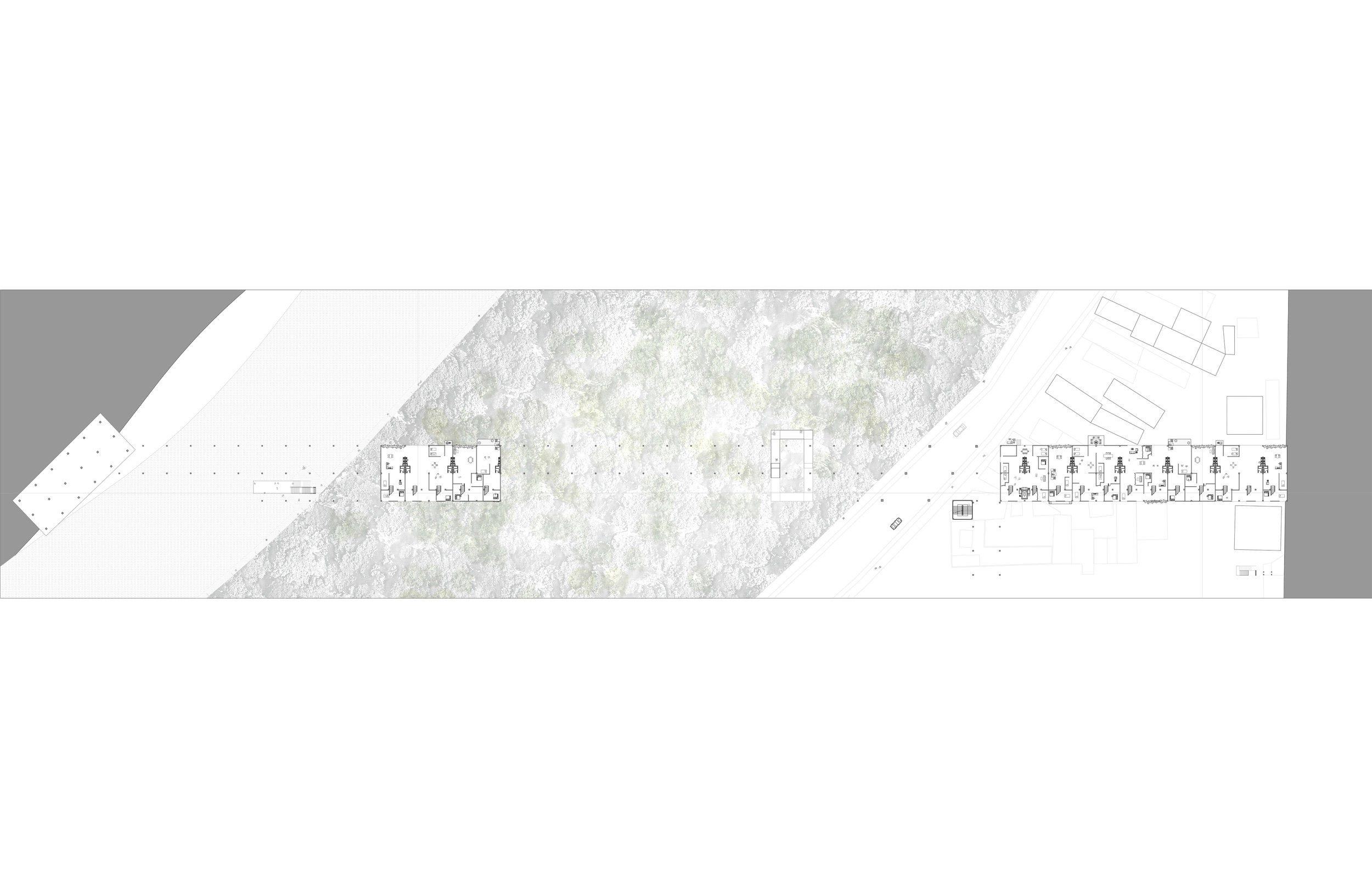 Investigating the urban fabric of an informal settlement
The polluted and flood-prone Almendares River runs through the fragmented outskirts of Havana, Cuba, culminating at its northernmost point at the mouth of the bay.
An informal settlement called El Fanguito - the little mud - sits atop a precarious swath of muddy riverbank along the east side of the Lower Almendares River. This last portion of the river is the slowest and most contaminated part of its journey, often spilling over its banks into the homes of those living on its borders. The lack of infrastructure along this portion of the riverbank contributes to the transience of water, mud, informal structures, and people.
As the Almendares continues to become more polluted by domestic wastewater, industrial runoff, and landfill leachate, the green zones that feed on the river for its water supply have been deteriorating, forming "cancer alleys" depleted of oxygen. Due to a precarious interdependence between human settlements and the environment, hydrogeological dysfunctions and cultural identity become interlinked issues.
Historical shrinking of the forest
Watersheds and Almendares River
Degradation of flora and fauna
FIGURE OF THE SITE
The site lacks the structure of a formal urban grid, becoming isolated from the rest of the city by a 40 foot retaining wall to the east and the Almendares to the west. These ruptures break the city grid and further deepen the social divide between the community and the city that has grown around it.
EXISTING BUILDINGS
This project anticipates a future that must negotiate with rising sea levels, the continued shortage of urban housing, and the constant battle with deforestation and water contamination.
INTERVENTION
The proposal is an environmental infrastructure that introduces the urban grid of Havana to El Fanguito as a series of elevated city streets that connect the informal settlement to the rest of the urban fabric. This secondary grid hovers over the organic grid of El Fanguito, providing a new surface for growth and bringing essential services to the community. The introduction of this environmental infrastructure will give the riverbank back to the forest, allowing for the remediation of the water and the preservation of endemic flora and fauna.
UNIT DETAILS
The infrastructure is designed along a flexible column grid, with housing units implied by the spacing of the columns and the presence of service cores. The appropriation of the structure will be dictated individually as each household plugs in and fills the gaps, causing the new street grid to grow organically and, perhaps, disappear into the urban language of El Fanguito.
Elevated street level plan